Written by Abram Chamberlain | 25 September 2011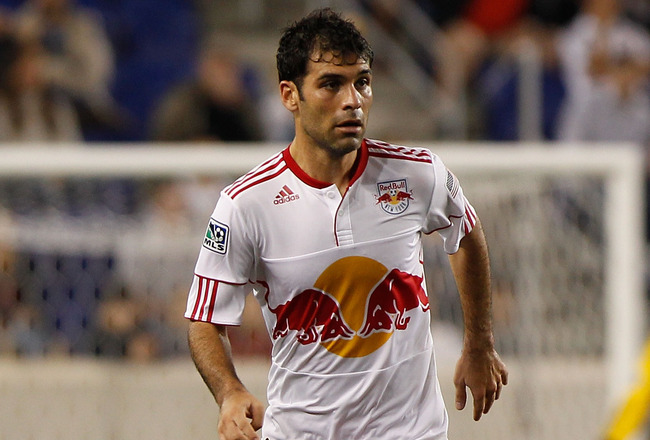 We have seen far worse in soccer this season. When three preseason MVP candidates –Steve Zakuani, Javier Morales, and David Ferreira—all went down after bone crunching tackles, we were angry but it did not received the same animosity as the 28-word quote did. We have heard worse about New York sports. When John Rocker's 1999 hate filled tirade exploded, it received far more outrage outside of the sports world than did the 147 character uttered in the middle of last week. We have witnessed far less effort from a complaining player. Just look at Vince Carter who has become the prototype for a player signing a big contract then putting in little effort before the next contract year. Yet something about Rafa Marquez's lines rubbed everyone the wrong way.
There are several reasons as to why Rafa Marquez's quote has taken on a life of its own. From the calls for Marquez to be loaned or transferred in January, to the inevitable boos that will rain down on him in other stadiums throughout MLS for the remainder of the season, MLS supporters are ready to beat and bury Marquez beneath the pitch.
To fully understand the vitriol that is being aimed at Marquez, one must first begin by listening to the non-traditional media that surrounds Major League Soccer in America. MLS does not usually garner the widespread coverage that ESPN and
Sports Illustrated
provide to most sports (and spelling bees and chess and poker, but that is another blog). Due to this, several blog sites and podcasts have come along in lieu of them. The MLS's league-sponsored podcast, Extra Time Radio, has spent the last few weeks asking fans who they consider to be MLS villain.
Pointing out your enemy is something people do easily in nearly every sport, but something about MLS --maybe it's the single-entity structure-- has made it especially hard to jeer opposing players. Many times I have looked to MLS for players to despise and while I certainly dislike some I would stop from truly calling them"bad guys". After all at the end of the day I make more money than a lot of them do each year. The low salary cap --many players earning less than $50,000 a year-- makes me look at many of these guys as coworkers instead of actual athletes when I'm trying to burn them in a blog.
Due to this view, many players that I want to hate are no more than side pains. When logically thought out they are no worse than the guy at work who sends you his over-the-top-Born-Again-Christian e-mails. The guy is just trying to help you even if you don't agree with him. He is not evil just annoying. So you smile, walk away from the water cooler when he's coming, avoid his phone calls to your house, and start automatically erasing his e-mails before you read them. The people you begin to loathe are those who make more money than you do and appear to do less work.
W
hen looking at the players who people have truly loathed in MLS --David Beckham, Thierry Henry, Cuauhtemoc Blanco, Freddie Ljungberg, and even American hero Landon Donovan-- it should not be surprising that they are all Designated Players; however, these players were typically adored by their own teams.
This has not been the case for Rafa Marquez. Again, listening to the non-traditional media, Marquez has not exactly been loved for his performance. Over the last four games for Red Bulls New York, Marquez has only played in two. Of the two games he played in, RBNY has lost one and tied one. Further breaking it down, the team has allowed four goals in the two games where Marquez was playing. Then in the two games that Marquez has missed, for yellow card accumulation and a team suspension based on his comments, RBNY has not only won both times, but has allowed zero goals. Moving even further down the statistical lines, of the previous four clean-sheets that the Red Bulls have had Marquez –who is supposed to be the leader of the defense—has played in none of those games. At some point someone needs to do the math.
In several Red Bull New York podcasts Marquez has been called out for seeming disengaged, for bad tackles, for not being a leader in the locker room, for playing exceptionally well for the Mexican National Team but only half-heartedly for Red Bull. Still, everyone could manage to overlook Marquez's short comings, because they thought maybe he was being played out of position. People thought maybe he was not putting in a full effort because he was confused, but then the quote hit the internet.
"I think I am playing at my maximum level, and doing everything I can. I don't have, unfortunately, four defenders on my level that can help me out."
Then the internet exploded and MLS truly had its bad guy.
L
ooking at Rafael Marquez he has the makeup of a traditional sports bad guy. He's handsome, he's overpaid, he plays for a team in New York (technically New Jersey, but you get the point), he's the captain of the Mexican National Team, and he has been in more than a few scuff ups with the United States Men's National Team.
So while more traditional journalists, like ESPN's Jeff Carlisle,
have been calling for Hans Backe to drop Marquez from the lineup
before this recent outburst, bloggers and tweeters are now asking for his outright release. Yet what is it we are really angry about? We know that most of the players in MLS actually aren't able to do what Marquez does. MLS's fans have never tried to fool themselves.
They know that --at best-- they cheer for the 20
th
best league in the world. They know that American players like Brek Shea, Juan Agudelo, George John, Bill Hamid, and Teal Bunbury and foreign youngsters like Andy Najar and Fabian Castillo are awaiting their chance to go play in Europe. They know that players like David Beckham, Torsten Frings, and Thierry Henry come to the league because it will allow them to extend their careers while commanding a good salary. They know that in the middle of the up-and-coming players and the few world class players --former or otherwise-- are a lot of journeymen just trying to make their career playing a game they love.
We all know this, but apparently this is something that Rafael Marquez didn't realize. He should have known what he was getting into when he sign his contract in New York. He should have realized that half his job was going to be to tutor Tim Ream. His job was not to call Tim Ream out in the press for "infantile mistakes", when he has done more ball watching than a fluffer on a porn set.
Yet through his ignorance Major League Soccer may have finally found someone to loathe. The supporters have someone that we can hate without feeling guilty about it, and this should be the inevitable next step in our teenage league.
We need our Bill Belichick,our Nigel De Jong, our LeBron James, our Ndamukong Suh, our character that everyone --fan or foe-- can admit is a bit of a jerk, a bit polarizing, but still really good at what he does.
Marquez may not have been
wrong
in what he said, but how he expressed it --in the media, after a loss, in a game where he continued to underperform-- paints him into a corner; but, it's a corner MLS has needed filled in for quite some time now. As we get older we expect different things from our villains. Swiper the Fox is not exactly made in the same mold as Hannibal Lecter, but both are antagonists. They give you someone to jeer, someone to root against, someone to hate; but, as much as we might like Luke Skywalker we know that Darth Vader is much cooler. While we may strive to be Batman we would much rather party with the Joker. Honestly, when you watch
Training Days
don't you often find yourself cheering on Alonzo Harris over Jake Hoyt?
Everybody is supposed to hate the villain, but life would be mighty boring without him. We need the player to boo, to throw things at, to make signs about, to complain about on Twitter. We need the heroes, but we also need the ones that we can write overly long analytical blogs about (guilty as charged). Rafael Marquez has been partially responsible for the regression of Tim Ream, partially responsible for the form of Red Bull New York, partially responsible for ripping apart a struggling team's locker room with irresponsibly mistimed quotes, and 100% responsible for being the bad guy.
And everybody loves the bad guy.
---
Abram Chamberlain blogs about Major League Soccer and the United States Men's National Team (amongst other topics). Follow him on twitter @AChamberlainSC or read more of his blogs over at Viva La Futbol.