Written by Jacob Holmes | 13 August 2011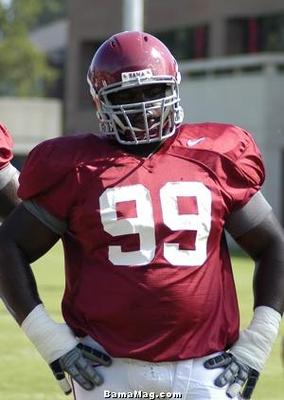 Staying true to Alabama's system, I am starting this series with defense. Since I have already covered the secondary and linebacking corps, I'm going to wrap up the defensive breakdown today with the defensive line. This will probably be a two-a-days blogging day for me, as I plan to cowrite my breakdown of the backfield (quarterback and runningbacks) with BloodBCrimson. So be looking for that tonight.
There was obviously a big loss on the defensive line this year with Marcel Dareus leaving for the NFL draft. Another projected starter, Darrington Sentimore was put on indefinite suspensions for undefiite reasons, and may not play this season. On the flipside, Alabama has changed defensive line coaches. In their addition of former Clemson line coach Chris Rumph, I believe our defensive line will learn much better technique from a guy that did wonderful working with Clemson's starters.
Returning at Defensive Tackle, we hav Josh Chapman. Chapman is one of the strongest members of the team. He is pretty big and can move slightly better than Terrence Cody could. He was named to the All-SEC team, so apparently people are expecting a great senior season from him.
Making the switch from linebacker to defensive end, Ed Stinson could start in Sentimore's place this season. In limited time at linebacker, Stinson played very well and was one of the best backup linebackers on the team. His move to defensive end may allow him to bring his talent to the field more often.
Damion Square also returns at his starting position as defensive end. Square was injured and never really played to his potential last season. He is completely healthy as of now and looks to contribute a lot to this team. He has the physical assets to do it.
Also at the defensive end spot we have two new JUCO guys, Jesse Williams and Quinton Dial. Nick Saban usually has a good eye for JUCO guys, so I naturally expect these guys to be able to contribute immediately, even if that is as backup players. Williams, pictured on the rollover at the top, is an Australian native, and if he plays well, could probably become Alabama Folk Legend. This because he is Austrailian, and he is intimidating. His latest tatoo reportedly boasts, " I stopped looking under my bed for monsters once I realized I AM the monster." Scary dude. Glad he is on our team.
Undra Billingsley should also be in the rotation at defensive end. He may have lost the immediate backup spot due to an illness that caused him to miss valuable reps. Kerry Murphy is another talented player at the backup for the defensive tackle position. Although not as big, he is supposed to be more athletic than Chapman and once battled him for playing time. There is also true freshman Jeoffrey Pagan, who is reportedly doing very well, but I would expect him to redshirt if at all possible.
That wraps up the defensive line, and with it, the defense in general. Stay tuned for my blog tonight on the quarterback controversy and our runningback situation.